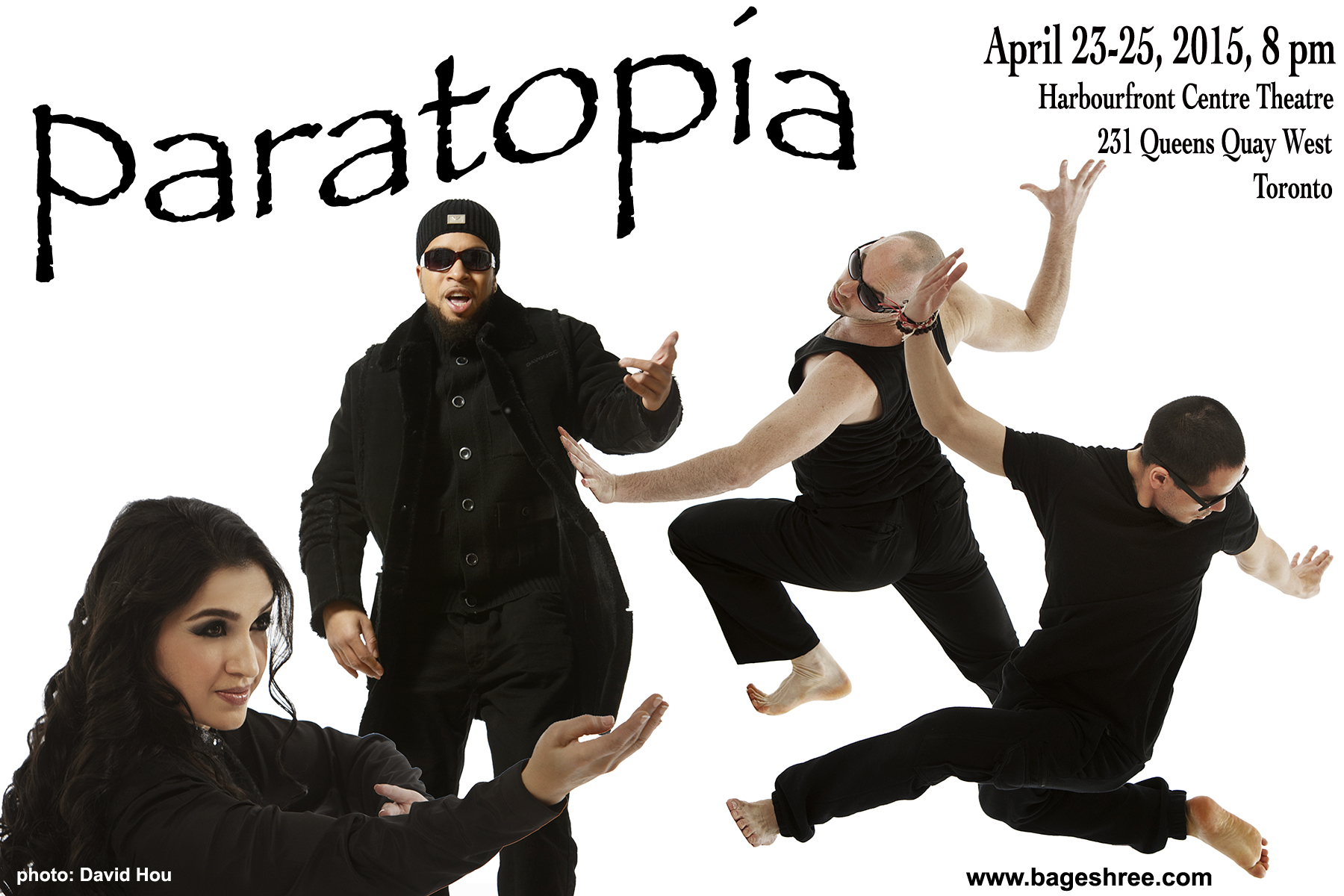 "PARATOPIA"
21st CENTURY INDIAN DANCE JOINS FORCES WITH URBAN, CONTEMPORARY STYLES
DANCEWORKS presents Indian and urban dance styles in an exciting new production choreographed by award-winning dance and music artist Bageshree Vaze. "Paratopia" premieres April 23-25th, 2015 at the Harbourfront Centre Theatre (formerly the Enwave Theatre), Toronto. All shows are at 8 pm, and the production is also part of the Harbourfront Centre's 2014/15 Next Steps Dance Season.
DanceWorks is a contemporary dance series that has been programming innovative and award-winning dance in Toronto since 1977. With a cast of top-notch dancers and musicians from Toronto and India, Paratopia will showcase the diverse parameters of Kathak dance. The word 'paratopia' connotes innovation and synthesis, and these ideas will be reflected through intricate footwork and rhythms, and a dynamic display of different movement styles ranging from Kathak to Contemporary to Hip Hop.
"People think of Kathak dance as traditional, but it is very contemporary, and evolves everyday," says Vaze. "I'm excited to be working with versatile dancers who are able to interpret Kathak language and add their own abilities into choreography that highlights common elements in all the styles."
For Paratopia, Vaze is presenting excerpts from past works such as Tarana, Avatar (9), and last year's CanAsian Dance Festival commissioned-work In My (Dis)Place, along with a new group work entitled Paratopia.
Inspired by The Matrix movies (which were inspired by Indian philosophy), the new work combines Kathak rhythms with Urban/Hip Hop beats and choreography, featuring Toronto dancers Bageshree Vaze, Danny McArthur, Daniel Gomez and Samantha Schleese, tabla drum artist Vineet Vyas, Dora Award-winning composer Phil Strong, video/animation artist Elysha Poirier, and Human beat-box artist KillaBeatz. Kathak Dance Star Anuj Mishra from Lucknow, India will also perform in the production.
Vaze is an exponent of Kathak, the dance style that originated in India's 17th century royal courts, and is known for its intricate footwork and graceful sweeps. Vaze has also had extensive training in other movement styles including Bharatha Natyam and urban dance, and is a vocalist. In 2004, MTV India named her an 'ubbharta sitara' (rising star), and in 2010 Vaze was awarded the K.M. Hunter Award in Dance.
Paratopia takes place at 8 p.m. April 23-25th at the Harbourfront Centre Theatre, 231 Queens Quay West. Tickets range from $19-37, and can be purchased through the Harbourfront Centre Box Office at (416) 973-4000. For more info visit www.harbourfrontcentre.com and www.bageshree.com.
Share on Facebook